MABB is a registered TM.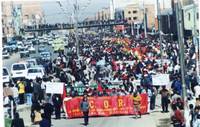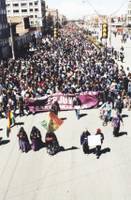 These are images of today's marches in El Alto. (click to see bigger)

---

In preparation to a wave of demonstrations from the different civic and social organizations, equal to a tornado with hurricane winds, president Mesa cancelled his usual cabinet meeting on Friday, and instead he held a meeting to asses the current political situation. The results were a two-fold approach to the conflict. First, to continue looking for dialog, and second, to confront the main conflicting parties suggesting they had hidden interests to destabilize the government.

Moreover, on Sunday evening he spoke to the nation. His message was direct: There are certain dark forces (the leaders of the social movements of Santa Cruz and El Alto), which have an interest in destabilizing the government to further their own agenda. These groups have radical positions and want my government to leave power. To all the people in the nation, he said, don't come out to support these interest groups. To the conflicting groups, he said, if you want to change the line of government, win elections. (paraphrasing here)

Meanwhile, the groups have started already their attack. Here is an agenda of what's happening today (Monday).

Central Obrera Boliviana (COB)(Bolivian Labor Union) - National labor strike for 24 hours. Demonstrations and marches throughout the city of La Paz.

Federación de Juntas Vecinales de El Alto (FEJUVE) (Neighborhood Federation of El Alto) - General strike for indefinite time. Street and roads blockades.

Federación Sindical de Trabajadores Mineros de Bolivia (Bolivian Miners' Union) - 24 hours strike and street and roads blockades around their districts.

Confederación de Jubilados y Rentistas de Bolivia (Bolivian Retirees Association) - Protest at 10 am in the San Francisco square, La Paz.

Sindicato de Gremiales de La Paz (Street Vendors Union La Paz) - manifestation and protest in La Paz from 10 am.

Movimiento Sin Tierra (Movement Without Land) - Protests and blockades in the national territory and occupation of land in different places around the country.

Confederación Sindical de Trabajadores Campesinos de Bolivia (CSTCB) (Bolivian Peasant Worker's Union) - Movilizations, road blockades, stop delivering agricultural products to all the cities.

Productores Cocaleros de los Yungas (Yungas Coca Producers) - Movilizations and road blockades.

Central Obrera Departamental La Paz (COD La Paz) (Central Workers' Union) - 24 hour general strike and street and road blockades. Protest and march in La Paz, starting at 14:30.

COD Oruro - 24 hour general strike and street and road blockades. Protest and march in Oruro, starting at 14:30.

COD Potosí - 24 hour general strike and street and road blockades. Protest and march in Potosí, starting at 14:30.

COD Chuquisaca - Protest and march in Sucre, starting at 15:30.

COD Cochabamba - 24 hour general strike. Protest and march in Cochabamba, starting at 10 am.

COD Pando - 24 hour general strike.

Transportistas de Santa Cruz (Transport Workers of Santa Cruz) - Continuation of indefinite strike.

Additionally, the Comité Pro Santa Cruz, has decided to stage a general strike on Tuesday and Wednesday this week.

Some reports I have been getting from sources in Bolivia have been conflicting. Some sources say that the general strike in El Alto is total. The spokes person of the transport workers, says they are not asking for Mesa to leave, but for solutions. The strikes called in La Paz, Cochabamba and Potosí by the Workers' Union are reported to be half-hearted. In Santa Cruz, the leaders are still reacting to Mesa's speech.

However, there are still the marches in to La Paz to account for.

Some other sources (friends) have told me there are some people who are burning wheels and are trying to start some trouble.

At the moment, what I can gather, the conflicting parties are still negotiating. One of the solutions for the conflict in El Alto (the most radical area) would be the cancellation of the contract with the water company, Aguas del Illimani. The only problem is that if the contract is cancelled and the company is kicked out of El Alto, the action will also seriously affect the city of La Paz.

But, I say it again, the negotiations continue, as well as the protests.

Stay tuned.

For more coverage, also see Barrio Flores.